Our Culture
Our pride is embodied in our vision, mission, values and beliefs.
Ask an OGE Energy Corp. member about the company's culture, and you'll get a variety of responses. For some it's about supplying and delivering a vital product – electricity—that ensures the safety, security and well-being of those around us. For others, it's about supporting and giving back to the communities we serve through social and environmental responsibility. And for others still it's about innovation in the way we deliver energy by offering customers a variety of options for where their electricity comes or helping them use energy wisely so they can better manage their household budget.
But no matter which OGE Energy member you ask, one word stands out: PRIDE. We're proud that the energy we deliver gives people comfort, safety and security. We're proud that we live and work in Oklahoma and northwestern Arkansas and support the communities we serve. We're proud of our strong record of low-cost, reliable power—24 hours a day, 7 days a week—and our ability to respond safely, effectively and efficiently when our communities face emergency situations such as severe storms or manmade disasters.
Our pride is embodied in our vision, mission, values and beliefs.
Our Vision
The industry leader with a passion for helping customers, developing members and delivering stockholder value
Our Mission
Safely provide reliable electricity and related services vital to our communities at a reasonable cost
Our Values and Beliefs
We fulfill our vision, mission, values and beliefs in our actions both at work and at home.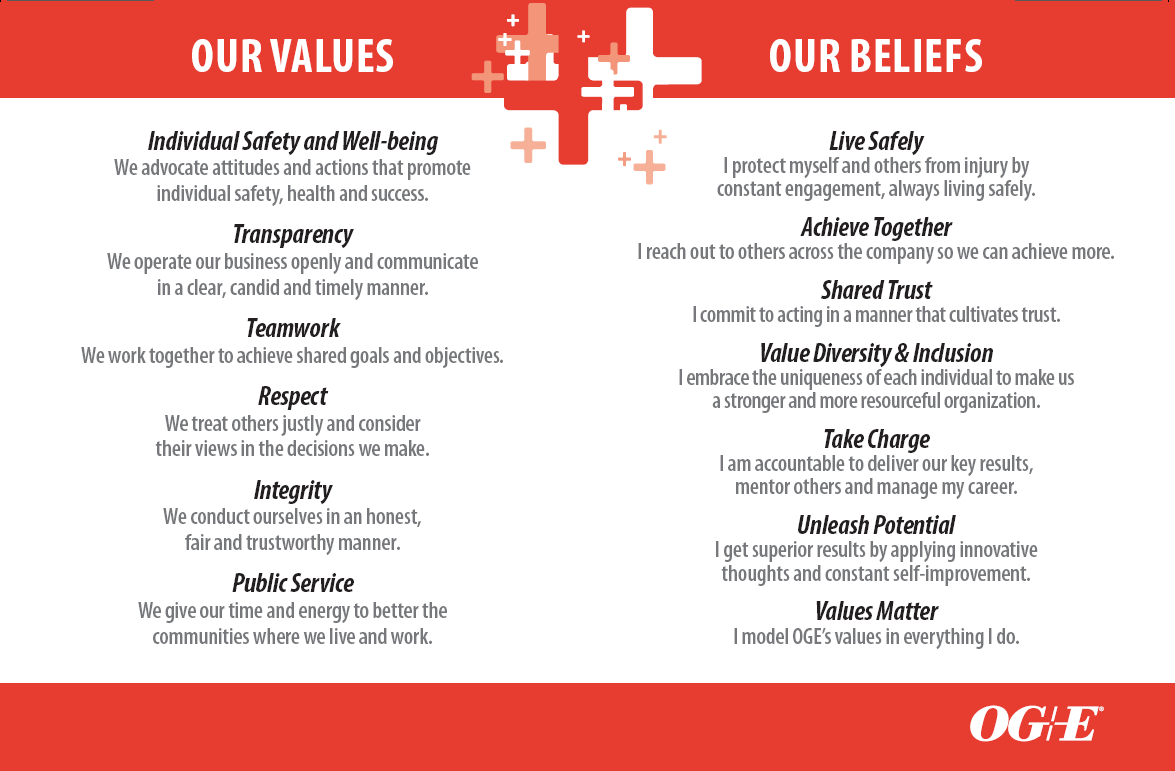 Public Service in Action
The hours are long, and the work is challenging, but the System Construction Team at OG&E finds a way to give back, year after year—with 100 percent volunteer participation for three years running. Watch the video: Positive Energy in Public Service
Teamwork in Action
OG&E has supported rowing on the Oklahoma River since the inception of the Boathouse District in 2005. In 2015, the Head of the Oklahoma, four days of rowing events, kicked off with the OG&E-sponsored Nightsprints. OG&E's River Dogs came to win. Watch the video: Positive Energy in Teamwork
Individual Safety and Well-being in Action
The deadly tornadoes that swept through central Oklahoma in 2013 destroyed thousands of homes and businesses and left hundreds and thousands without power. Crews worked 16-hour days—every day—until power was restored. For one Moore resident, the work of our line crews not only provided her power … it also saved her life. Watch the video: Positive Energy for Individual Safety and Well-being
Our Code of Ethics
Our values, and in particular our commitment to integrity, are embodied in our Code of Ethics. The code contains specific guidelines governing how we work and helps us respond appropriately in situations where the correct course of action may not be clear. Our directors, officers and members are expected to maintain our reputation for integrity and to act only with the highest standards of ethical conduct.
We also require ethical conduct from those we do business with and expect our suppliers, vendors, and contractors to abide by our Code of Ethics as well.