Together, we've made our state a renewable energy leader. Generating power from the wind. The earth. And now the sun.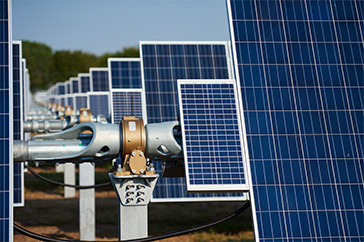 SOLAR POWER IS RIGHT FOR YOU
As the cost to produce electricity increases over time due to production and environmental regulation, so will your bill. OG&E's Solar Power comes with a life-long price, guaranteed to never increase while the solar farm is producing.
Get zero-emission energy benefits without paying tens of thousands of dollars to install rooftop solar panels.
OG&E is making solar power affordable to apartment dwellers, homes, businesses—everyone.
During summer months, you will receive great discounts during off-peak hours.
Stake your claim as a renewable energy pioneer and sign up for OG&E Solar Power.
Sign up now for our first available solar power in August - space is limited!
Click the "Sign in to OGE.com" button to see your exact Community Solar price OR click the "Estimate your Savings" button to estimate the cost of Solar without signing in.
CALCULATE YOUR SAVINGS
The OG&E online solar calculator: Use your address and usage information to estimate your bill. This tool easily walks you through the prices, projecting your energy costs and showing how much solar power might save you over time (and you might save immediately).
Take a couple of minutes to watch our bright energy future in action...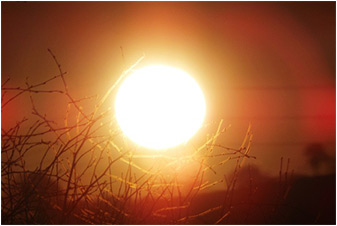 SUMMER TIME-OF-USE SOLAR RATES
(JUNE-SEPTEMBER)
When the sun isn't shining in the summer—like cloudy days or overnight—you'll pay a variable rate.
Solar Power Price: 9.8¢
Low Production Days & Nights
• On-peak weekday hours, 2-7 p.m.: 23.6¢
• Off-peak weekdays, all weekend, all holidays: 5.6¢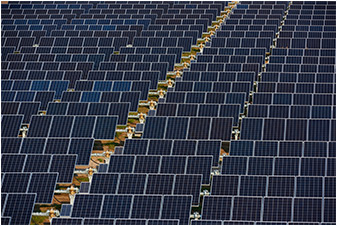 WINTER SOLAR RATES
(OCTOBER-MAY)
In winter, solar power customers keep the guaranteed 9.8¢ Solar Power Price for energy produced at the solar farm and pay standard rates for all non-solar usage.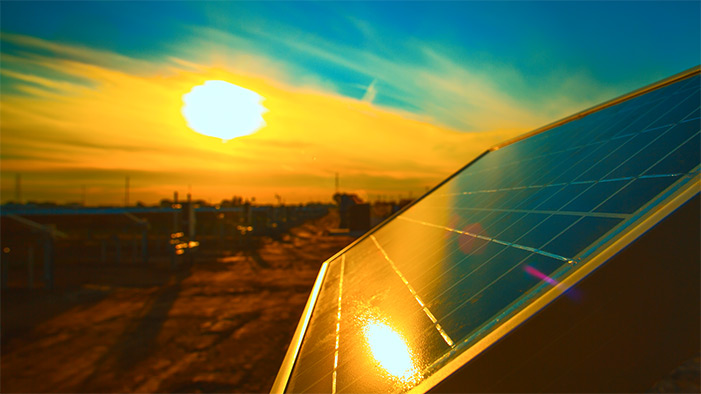 No need to invest in owning and maintaining solar panels, sign up for our guaranteed OG&E Solar Power Price. This price will never increase and may even go down as solar capacity grows. The rest is simple: When our solar farm isn't generating (on a cloudy day or overnight), a solar power customer's rate will change based on time of day and season. So don't keep up with the upkeep, just receive the benefits of solar power without the work.
JOIN myOGEsolar
Once you're an OG&E Solar Power user, sign into the free myOGEsolar site for all the info you need to shine. This free tool shows your energy use and total solar generation, plus up-to-the-minute solar farm performance. And while keeping track of your projected savings, you can also see the carbon emissions you're taking out of the air—plus much more. Sign in now!

Our Mustang solar farm features 2,000 fixed and 8,000 sun-tracking solar panels, which already generate enough electricity for over 1,000 homes. We're moving forward with solar power as part of our continued commitment to being an affordable, reliable and environmentally responsible energy provider.

OG&E's investment in the sun adds more balance to our portfolio—which includes wind. Years ago, you and OG&E pioneered the creation and growth of our wind power program. Now, over 12% of OG&E power is produced at our wind farms, which helps make Oklahoma the nation's fourth largest producer.

And we'll always turn to traditional power-based plants for reliable power when the sun isn't shining, or the wind isn't blowing. That's balance. At OG&E, we're continually looking for new opportunities to keep our commitment to provide you low rates and new choices. With Positive Energy Together, the future is bright.

For questions, or for future solar power offerings, click here.

FUN SUN STATS
• Oklahoma ranks seventh in the nation for solar energy potential.
• Solar panels generate DC power; an inverter converts it to AC for power grid compatibility.
• Enough light to see a solar panel means enough light to generate a bit of electricity.
• Tracking systems, which tilt solar panels toward the sun, extend production levels.
• Solar panels use both direct and indirect sunlight to make electricity.
• Solar farms require five to seven acres of land per megawatt capacity—OG&E's farm occupies over 16 acres of land.