Company Profile
Who We Are
OGE Energy Corp. is headquartered in Oklahoma City, Oklahoma and is publicly traded on the New York Stock Exchange under the symbol OGE. It is the parent company of Oklahoma Gas and Electric (OG&E), a regulated utility, and holds a 25.6 percent limited partner interest and a 50 percent general partner interest in Enable Midstream Partners, LP, also headquartered in Oklahoma City.
Formed in 1902, OG&E is Oklahoma's oldest and largest investor-owned electric utility. We serve more than 858,000 customers in 267 towns and cities in a 30,000 square mile area of Oklahoma and western Arkansas. The largest city on our system, Oklahoma City, has a metro area population of approximately 1.5 million people. But we also serve towns like Enid, Ardmore, Muskogee, Norman, Durant, Ft. Smith Arkansas, as well as many other smaller communities throughout our service territory. We have approximately 2,200 employees who live and work in the very communities we serve.
Our power plants, located throughout Oklahoma, generate electricity using natural gas, coal, wind and solar power. We are extremely proud of the fact that we, as a company, have some of the lowest rates in the entire nation. And, because of our strong system reliability and high customer satisfaction, we're consistently ranked in surveys as one of the highest performing utilities in the nation.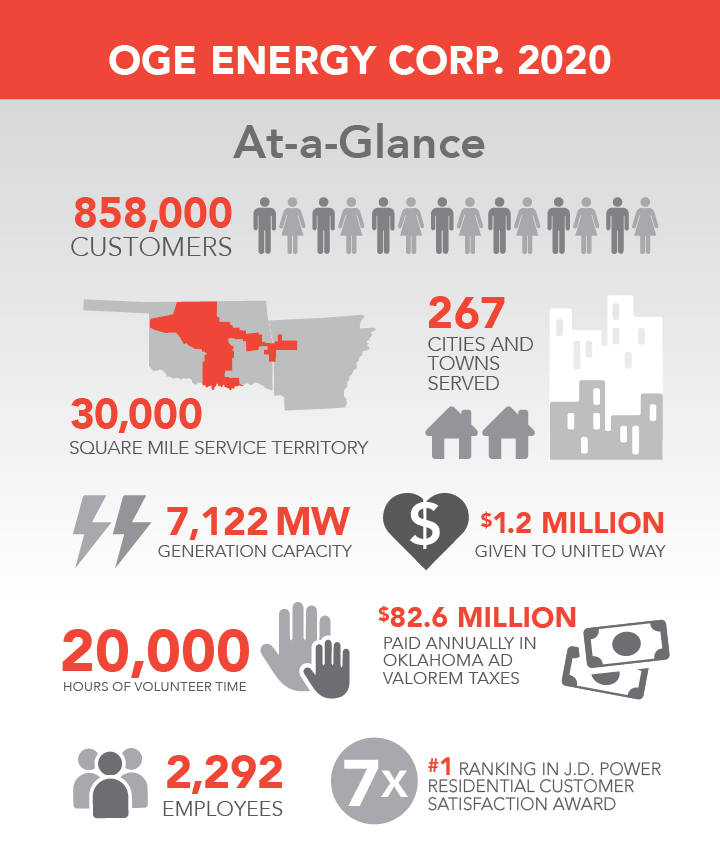 Our Mission
Safely provide reliable electricity and related services vital to our communities at a reasonable cost.
Who We Serve
We not only serve more than 830,000 electric customers ranging from single residents to large industrial facilities, we also power communities in other ways. We're the largest single payer of ad valorem taxes in Oklahoma, approximately $80 million annually, most of which goes directly to fund public education. What's more, our employees generously give their time and money to support the communities where they live and work. Through their generosity, OG&E is consistently among the largest contributors to the United Way—giving nearly $1.2 million to hundreds of partner agencies that improve the health, safety, education and economic well-being for people in Oklahoma and Arkansas. Our employees are also a force in their communities through volunteerism. We give each employee up to 16 hours of paid volunteer time each year to support personal causes such as education, the arts, social service organizations and many more. Last year, employees logged approximately 20,000 hours of volunteer time during their work days – but many also volunteer after hours and on the weekend as well.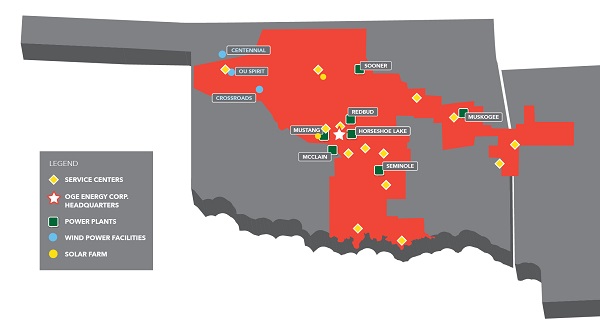 How We Serve
With about 7,122 megawatts of capacity, our generation portfolio represents a balanced approach to generating electricity through a diversity of fuel types—50 percent natural gas, 39 percent coal, and 11 percent renewable energy. We most recently offered customers the opportunity to enroll in 2.5 MW of solar generation and are currently building a nearly 10-megawatt (AC) solar power plant in Covington, Oklahoma, which is anticipated to serve the needs of over 10,000 average Oklahoma homes. This fuel diversity allows us to maintain system reliability and continue to keep energy costs low for the people we serve..
Our People
We call our employees "members" and have been doing so for a very long time. For our more than 2,200 members, working here is more than a just a job – it's a privilege and a passion. In fact, in engagement surveys, the strongest score from our members is PRIDE in the company. This pride is embodied in all we do – in the power plant operators who generate power, the line crews who maintain our power delivery system, the Customer Service representatives who help our customers and all those working in our offices who make sure the company runs smoothly.
Our Financial Position
Through years of applying sound financial and operational practices, OGE Energy has maintained a strong financial position, demonstrating consistent earnings growth and increasing dividends for our shareholders. The company achieves its financial success through pursuing multiple avenues to build its business, maintaining a diversified asset position, continuing to develop a wide range of skills to succeed with industry changes, providing products and services to customers efficiently, managing risks effectively and maintaining strong regulatory and legislative relationships.
Knowing that many of our shareholders count on our dividend for income, we are proud to be one of a select group of utilities that has never reduced our dividend since going public in 1947—that is 73 years of consecutive dividend payments! And we've consecutively increased our dividend for the last 14 years.
Recognition for a Job Well Done
While we appreciate the many awards we've won, we consider this recognition only a validation of the efforts we take every day to provide reliable, safe electric power while helping keep customer rates down. Some recognition we've received includes:
Edison Award for "distinguished leadership, innovation, and contribution to the advancement of the electric industry for the benefit of all."
Electric Light & Power magazine's Utility of the Year award
Seven-time #1 ranking of the J.D. Power Residential Customer Satisfaction Award - South Large Segment -- and we're consistently rated among the top utilities nationwide.
Twelve-time winner of the Edison Electric Institute's (EEI) Emergency Assistance Award for outstanding efforts to restore service promptly to the public following a storm or natural disaster (for companies that come to the aid of another company)
Eight-time winner of EEI's Emergency Response Award for outstanding efforts to restore service promptly to the public following a storm or natural disaster (for companies directly impacted)
Environmental Federation of Oklahoma Frank Condon Award for Environmental Excellence
Through the pride, dedication and hard work of our people, OGE Energy has proven time and again that our company—and the products and services we provide—will continue to play a strong, stable and vital role in the everyday lives of those we serve.