Grant Information and Resources for Teachers
We believe strongly that preparing for tomorrow starts with the youth of today. That's why we partner with our community schools to offer a variety of educational programs for teachers and students.
From providing scholarships for our future energy workers to funding teacher projects to educating our youth about electrical safety, we strive to provide students with the resources they need to be wise energy managers in the future.
Positive Energy Scholarships
At OG&E, we are committed to providing life-sustaining and life-enhancing products to people in our communities. Our scholarships are just one way to instill life into future generations through our commitment in investing in their education. The goal of our scholarships is to attract, recruit and retain a diverse workforce in Oklahoma and Arkansas and continue to build a pipeline of future OG&E workers as well as energy industry and manufacturing plant workers as well. To learn more about these exciting scholarship opportunities, please visit our partner organizations:
OGE Positive Energy Scholarship Application— Administered through the Oklahoma City Community Foundation, this scholarship awards $15,000/year up to 4 years for high school students seeking a degree in higher education.
OGE Energy Scholarship—Administered through OSU OKC, this scholarship is awards up to $5,000 to incoming students obtaining degrees in either Power Transmission and Distribution Technology or Electronics Engineering Technology.
Classroom Projects
OG&E and the OGE Energy Corp. Foundation Inc. provide funding for classroom projects through Donorschoose.org, a crowdfunding platform for educators. The funding period starts in the August/September time period and runs until funds are exhausted or December 31, whichever comes first.
Match Offer for Science, Technology, Reading, Engineering and Math (STREM) Projects
The company and its foundation donate $30,000 to match donations, dollar-for-dollar, for qualifying projects requesting books, educational kits, games and lab equipment that meet the following STREM criteria:
• Math and Science -- includes mathematics, environmental science, health and life sciences, and applied science
• Literacy and Language – includes literacy, literature and writing

Matching funds are available for projects in public schools that are located in OG&E's service area with at least 75 percent of students from low-income households. Projects must have a total cost of $600 or less.
Energy Efficiency Projects
OG&E provides $70,000 to fund projects that promote or teach energy efficiency and/or request EPA-rated products for the classroom. Energy efficiency funds are available for qualifying projects in all public schools located within the company's Oklahoma service area.
4th Grade Electrical Safety Program
From Ben Franklin to Nikola Tesla to George Westinghouse, the discovery and development of electric power has been one of history's most important achievements. But when electricity isn't handled carefully, it can be deadly. Both lightning and the electricity generated from OG&E plants should be treated with respect and attention to safety.
That's why we designed the 4th Grade Electrical Safety Program to teach kids the importance of playing it safe and sound when electricity is around. We encourage families to have fun while learning safety tips for the home and outdoors. This program is FREE to 4th grade teachers in schools served by OG&E. E-mail: ogecommunityrelationsteam@oge.com if you would like to schedule the program for your class.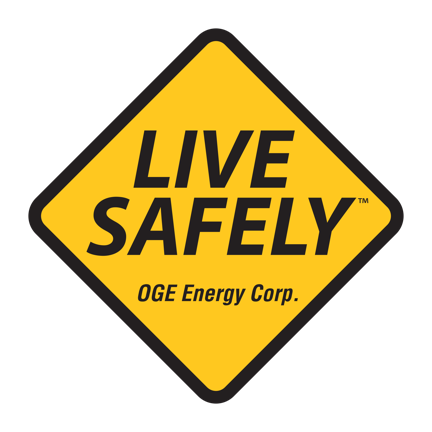 Watch our Kids Safety Videos
Energy for Kids
Pluggy's Outlet
The Prairie Project
The Prairie Project was developed in the department of natural resource ecology and management at Oklahoma State University, in cooperation with OGE Energy Corp. It is an informative and useful tool for youth and teachers.
On the Prairie Project website you will find great tutorials on plants, animals, fire, grazing, and energy. You'll also find information about how energy in the prairie comes from wind, storms, oil and natural gas, and discover how each of these forms of energy is different from one another.
OG&E Supports Positive Tomorrows
OG&E supports education. Here, children from Positive Tomorrows visit Oklahoma City University's Norick Art Center to hear OGE Energy Chairman, President and CEO Sean Trauschke, OG&E COO Keith Mitchell, and OCU President Robert Henry read from their favorite books. They also viewed an exhibition with over 20 years of the best illustrations from children's literature. OG&E and Enable Midstream Partners were the exhibit sponsors.