Staying Safe Together
"Live safely" is a core value and belief for our company, and we're committed to achieving an incident-and-injury free workplace for our members – as well as a safe environment for our customers and communities.
Our belief states: "I protect myself and others from injury by constant engagement, always living safely." We believe that even one accident is too many, and we take steps to make sure that all our employees, wherever they work, return home safely each day. Through our safety leadership, we're in the top quartile for safety performance with the Southeastern Electric Exchange (SEE), ranking fourth out of 19 SEE companies.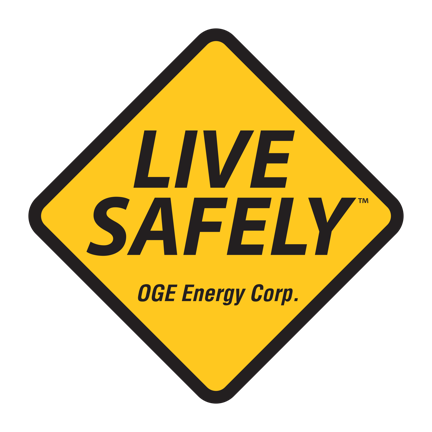 In 2017, we celebrated our safest year on record in our 116-year history with an 88 percent reduction in recordable incidents.
By providing our customers knowledge about electrical safety we can assure we all stay safe …. TOGETHER.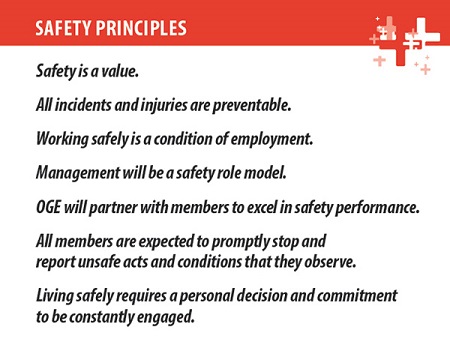 Stay Safe at Home
Electricity is vital to your health and well-being but also can be very dangerous. The following valuable tips will help you keep your home and family safe from the potential dangers of electricity:
Stay away from power lines and anything they touch. Downed power lines that appear to be harmless could be live. Watch our safety video: Downed Power Lines
Be sure your generator is properly installed by a licensed electrician to prevent it from back feeding into our system, endangering linemen, and potentially causing a fire. More Generator Safety tips here: Storm Preparation

Stay away from transformers. If locks are missing or broken, notify OG&E immediately.

Leave 1½ foot clearance around a transformer if landscaping.

Don't overload outlets.

Stay away from substations. If something like a ball goes over the fence, call OG&E for assistance.

Water and electricity don't mix.

Look up before you climb and down before you dig. Power lines are located both overhead and underground.
Stay Safe at Work
Never let your guard down. Here are a few important tips regarding overhead power lines to consider while at work:
Look up before you engage equipment.

Minimum approach clearance is 10 feet.

Be sure generators are properly installed by a licensed electrician. If a generator is installed incorrectly, it might cause it to back feed into our system, endangering linemen and potentially causing a fire.
Call Before You Dig
Before starting any new construction project, please be sure to call before you dig.