Our History
In the 1890s, before Oklahoma was a state, entrepreneurs were investigating an emerging technology – electrification. Oklahoma Gas and Electric Company was the first in the state to implement this sought-after technology and, by 1928, was Oklahoma's largest electric company.
Since those early days, OG&E has seen a lot of "firsts." We're proud to be an energy company with a rich history and a legacy of reliable service, affordable rates, customer satisfaction and support for our communities and the environment. We'll carry the spirit of innovation that started more than 100 years ago as we grow together with our customers in the future.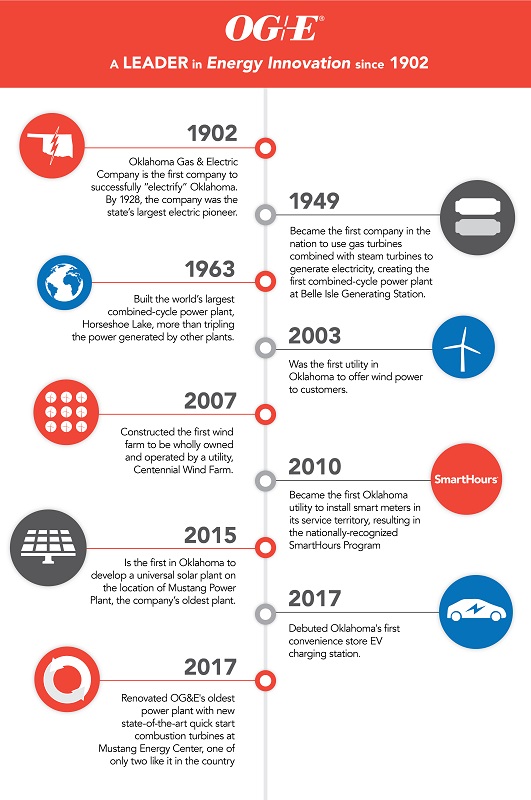 1902 – Oklahoma Gas & Electric Company is the first company to successfully "electrify" Oklahoma. By 1928, the company is the state's largest electric pioneer.
Mid-1920s – OG&E adds northwest Arkansas, including Ft. Smith, to its service territory.
1949 – OG&E becomes the first company in the nation to use gas turbines combined with steam turbines to generate electricity, creating the first combined-cycle power plant at Belle Isle Generating Station. Today, combined cycle power plants are recognized among the world's safest fossil-fired plants for the environment and the climate. These plants produce high power outputs with high efficiencies and low emissions.
1963 – OG&E builds the world's largest combined-cycle power plant, Horseshoe Lake, more than tripling the power generated by other plants. Horseshoe Lake Power Plant is still operating as part of OG&E's generation fleet today.
1969—OG&E constructs Seminole Generating Station, now Seminole Power Plant, at Konawa. To enhance the area, the company expands the station's cooling reservoir, creating the 1,350-acred Lake Konawa, which was subsequently opened for public recreation. Today, Lake Konawa is one of the nation's top bass fishing spots.
1972 – 1975 – The nation's energy crisis means a shortage and ever-increasing costs of the natural gas used to operate OG&E's plants. The company turns to low-sulfur coal from Wyoming as a means for keeping customer rates low and assuring a consistent power supply. The company begins construction of coal generating units at the Muskogee Power Plant in 1972 and builds the Sooner Power Plant in 1975. By 1980, almost half of OG&E's power output is from coal-fired generation. Today, the company is converting its Muskogee plant to natural gas and adding scrubbers to its Sooner plant in order to preserve fuel diversity and reduce cost risk for customers while still complying with EPA mandates.
1986 – OG&E acquires Enogex, a natural gas pipeline and energy marketing company with 10,000 miles of pipeline spanning west Texas, Oklahoma, Arkansas and southeastern Missouri.
Mid-1990s—OG&E works with the University of Oklahoma and Electrosource, a company that makes lead acid batteries, to promote electric vehicles. OG&E later sponsors research with OU to produce a two-hundred-mile-per-hour electric race car. Today, OG&E's fleet includes more than 10 electric vehicles, and the company has plans to expand its use of EVs in its truck fleet.
1995 – Oklahoma City is changed forever on April 19 by the bombing of the Alfred P. Murrah Federal Building. OG&E crews are among the first responders during this horrific event, working to secure and disconnect live electric wires, using truck ladders to reach those stranded in the building, stringing temporary emergency service lines to provide power to searchlights for rescue operations and powering pumps to remove water from the devastated building's basement.
1997 – OGE Energy Corp. becomes the holding company of OG&E and Enogex, employing approximately 3,000 people. Today, OGE Energy continues to be the holding company for OG&E and holds a 25.7 percent limited partner interest and 50 percent general partner interest in Enable Midstream Partners, LP (formerly Enogex).
2003 – OG&E is the first Oklahoma utility to offer wind power to customers at the Oklahoma State Fair customer kick-off event.
2007 – OG&E constructs the first wind farm to be wholly owned and operated by a utility, Centennial Wind Farm. Today, the company owns two additional wind farms—OU Spirit and Crossroads—and has Power Purchase agreements with four others, making our wind generation close to 842 MW of power
2010 – OG&E becomes the first Oklahoma utility to install smart meters in its service territory, resulting in the nationally-recognized SmartHours program. More than 120,000 participate in the program today. These customers have saved an average of $150 during the summer months.
2013 – OGE Energy Corp., CenterPoint Energy Inc. and ArcLight Capital Partners LLC enter into a master limited partnership that includes CenterPoint Energy's interstate pipelines and field services businesses and the midstream business of Enogex LLC. The partnership results in the creation of Enable Midstream Partners, LP
2015 – OG&E is the first in Oklahoma to develop a utility-scale solar farm on the location of Mustang Power Plant, the company's oldest plant.
2017 – OG&E ushers in a new era in energy technology with the opening of its Mustang Energy Center, with quick-start combustion turbines capable of starting and putting electricity onto the system in under 10 minutes.
2018 – OG&E joins nearly 60 investor-owned utilities in an unprecedented emergency power restoration mission in Puerto Rico following Hurricane Maria. The company was awarded EEI's "2018 Emergency Assistance Award for Puerto Rico Restoration."
2019 – OG&E adds two new power plants to its generation fleet: River Valley, located near Poteau, Oklahoma, and Frontier, located in Oklahoma City.
As the industry evolves, we'll continue to apply new technologies as we partner with customers to provide reliable service at the lowest reasonable cost in an environmentally responsible manner.