Is OG&E's Flex Price Right for Your Business? Ask Yourself:
Are you planning to grow your energy use and would you like to grow at a less expensive rate?
Can you shift some of your load during peak hours to off-peak hours?
If the answer to either question above is Yes, you should talk with an OG&E representative about Flex Price.
Flex Price is Now Available
OG&E has introduced a new offering called Flex Price for larger business customers. Many customers have had huge savings with SmartHours and now, larger business customers will also have the opportunity to save thousands of dollars every year with Flex Price.
Great Savings Opportunities
Flex Price is here to help you to lower your electricity bill. All you have to do is to make small adjustments such as running your larger equipment during low-cost times, which account for almost 90% of the entire year. If you are on Flex Price you always pay a much lower price of electricity, as long as you use energy during those low-cost times. So if you commit to shift your usage to off-peak hours, you'll see savings beyond what you could ever imagine.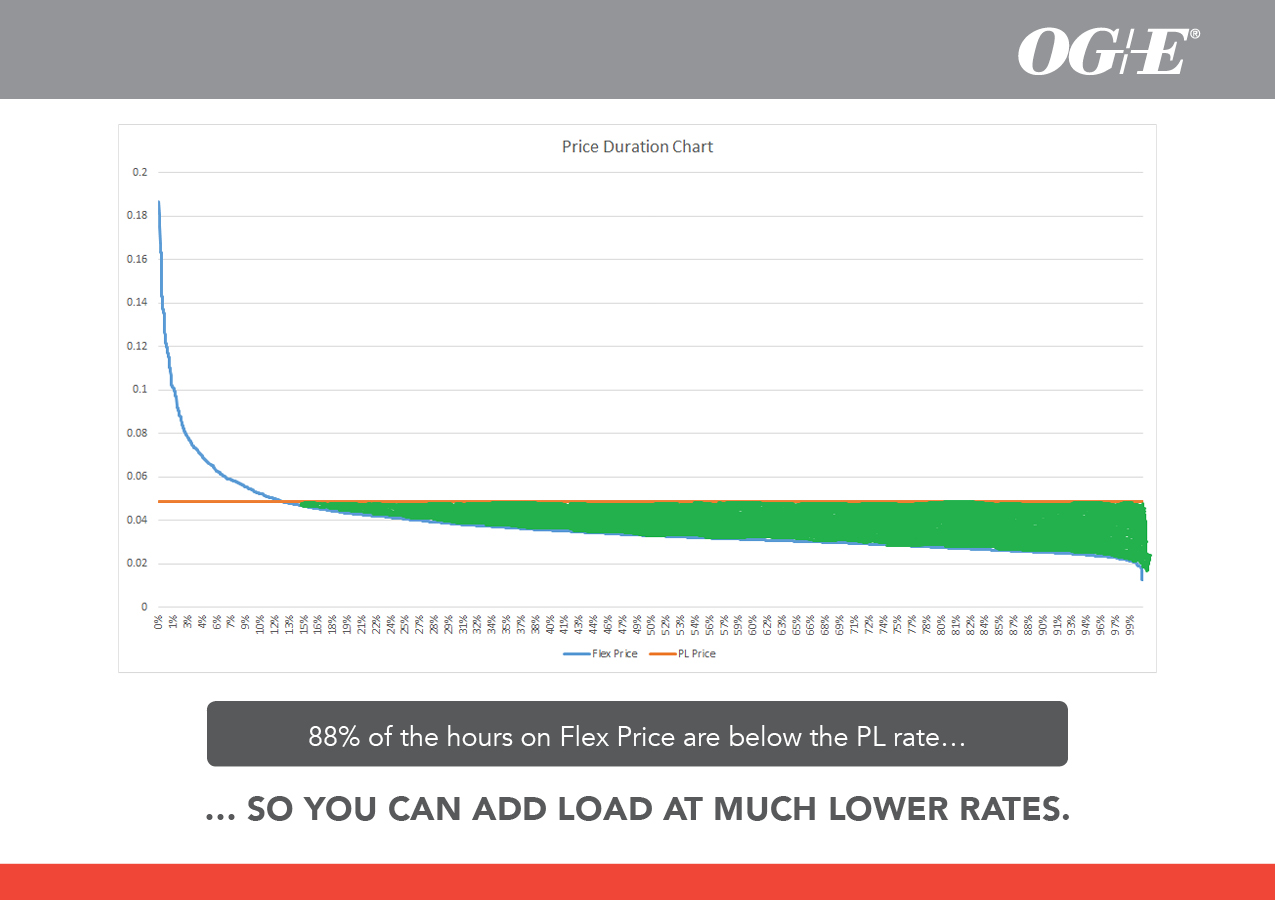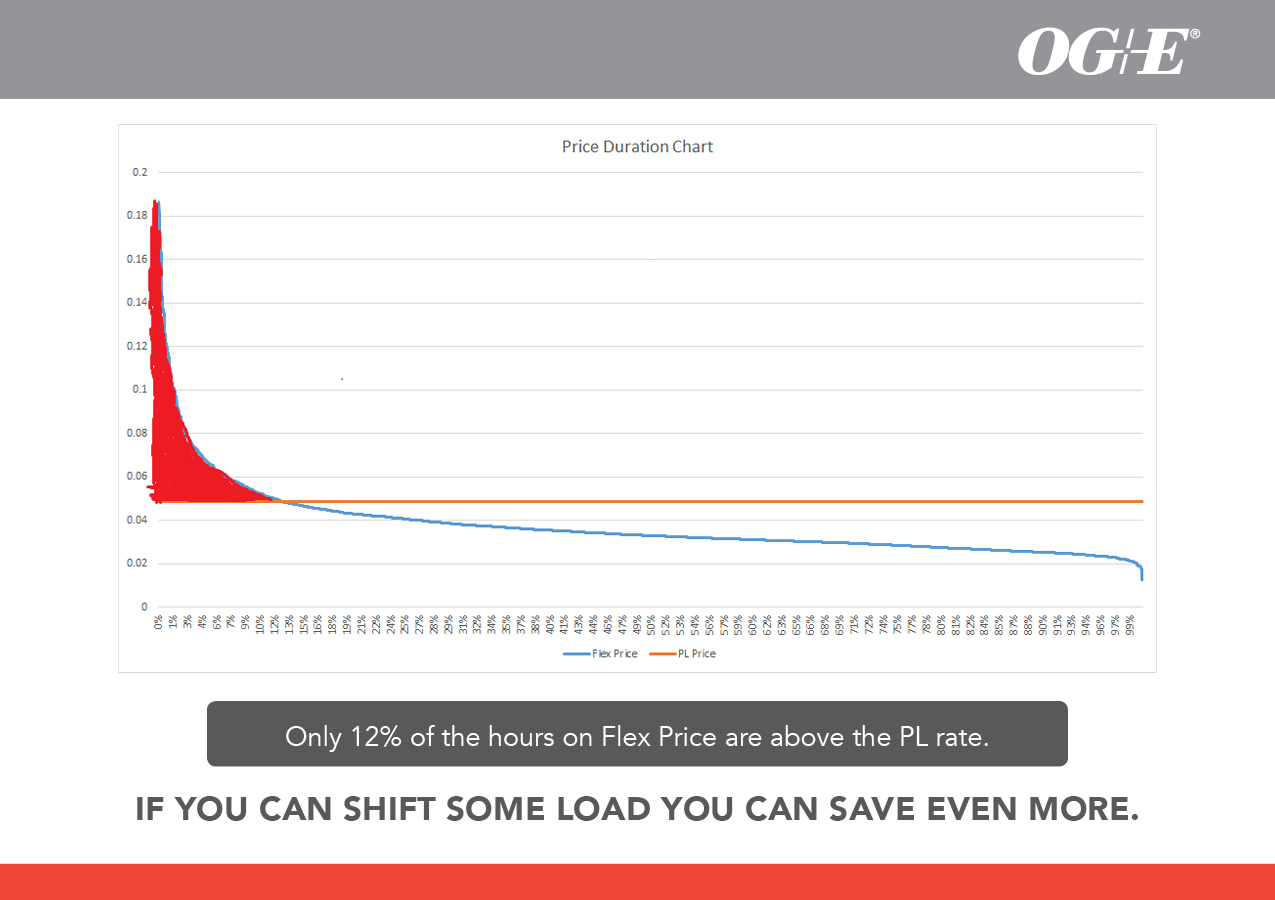 How We Calculate Your Energy Usage
Each customer has a baseline that is developed from their prior year's hourly usage.
Under Flex Price, customers are billed for energy consumption above the baseline and receive credits to their account when their energy consumption falls below the baseline.
After the 12-month period is completed, OG&E's Best Bill Guarantee ensures that you will pay the lower between your standard rate and the Flex Price rate.
Customer has access to a free web portal to view actual load, CBL and hourly price.
The graph below shows how Flex Price is calculated using the customer's baseline: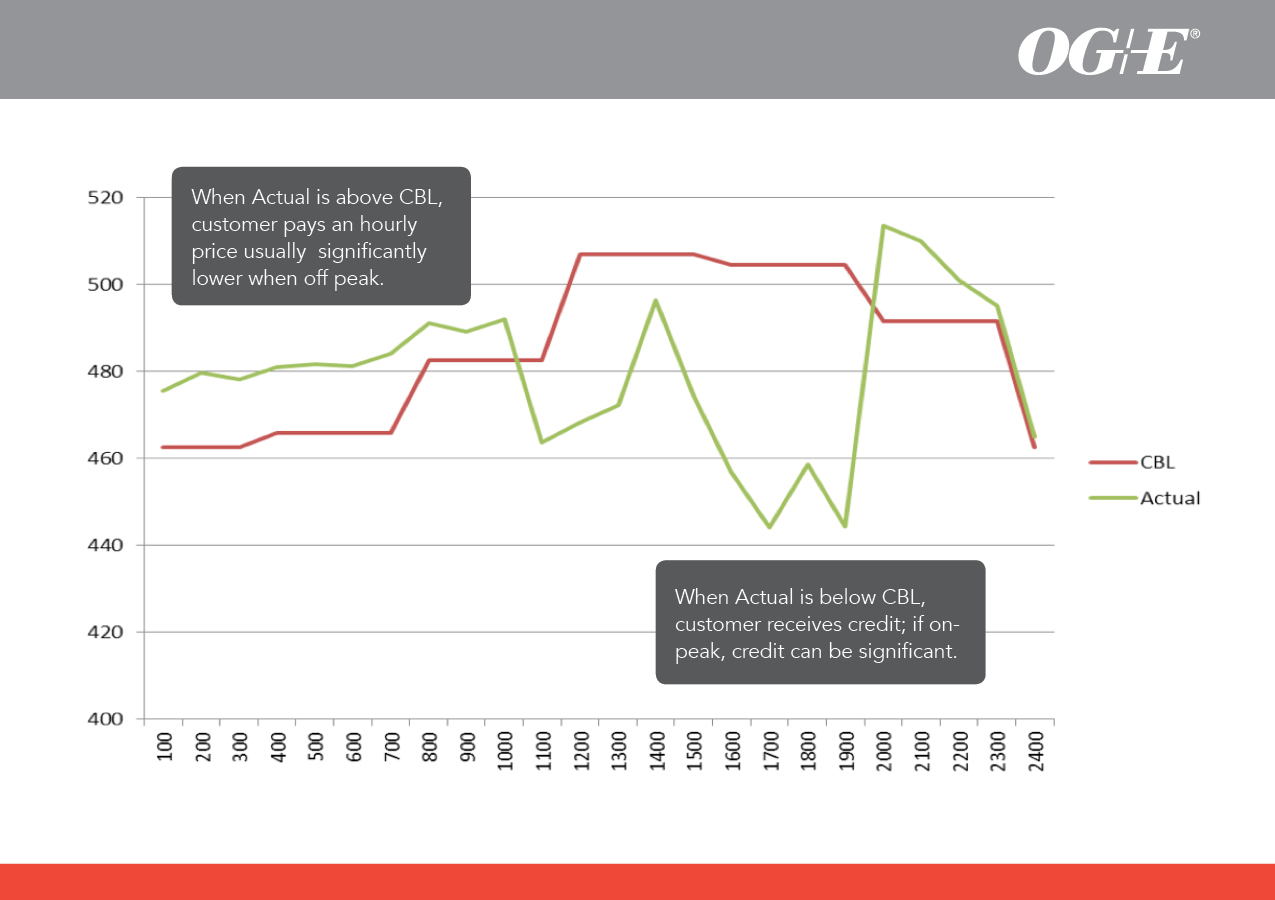 Use More, Pay Less
With Flex Price, OG&E will inform you of the on-peak price a day ahead to give you enough time to shift your usage. That's right! YOU are in control of choosing a time of the day, outside peak hours, when you can use more energy at a less expensive rate. So if you plan to use more energy, Flex Price will save the most money if you do so during off-peak hours. If you use the same as on your previous rate, you will still be able to save.
Now, during peak hours, if your energy use stays the same as on your previous rate, you'll pay the same. But if after your first year on Flex Price we find that your bill would've been lower had you stayed on your previous rate, we will get you a refund worth the extra amount you paid.
Either way, you are at no risk with Flex Price. And if you plan on increasing your energy use from last year, Flex Price is right for your business!
So why wait?
Call an OG&E representative now at 405-553-7500 or send an email to FlexPrice@oge.com to set up a time for a detailed analysis of your account and to see how Flex Price would work for you.
© 2016 OGE Energy Corp.